Daily Message
Date and Times given in Eastern Standard Time

12 Monday December 11th - Moon enters Libra 12:02 AM
Some past unresolved issue can become over blown. A busy mind will not shut off or slow if there has been dangling issues from the past. Many things will come forward if they had not been probably addressed in the past. Issues which deal with partnerships can echo as if connected with past unresolved issues as in long ago relationships. The feeling and issue is somewhat the same however there may be new and different players. It may be important to keep a friendly tone in one's relating experiences however this may be challenged as a need to bring up recent actions involving something which has weight and importance can not be avoided. Looking for the bigger picture or higher purpose may now involve the need to accept a particular relationship dynamic. Particularly interesting now are the resources and values which create security for the individuals involved. Some may feel blocked or stalled as their partnership is not able to accept what they see as an individual. If the individual is having work related challenges they may feel it is their partnership which requires an adjustment. Next week however this may change and so it is wise to be patient. The current Scorpio Moon cycle is nearing it's end and so many may be feeling either delighted or challenged by the agreements or associations they have with others. A closer look at how things are shared or divided up may have recently occurred.
New Message Begins December 13 2017 9:00 AM
The Daily Message is taken from the current PathfinderReport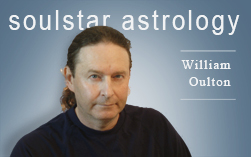 Astrologer * William Oulton
Next New Moon
6 Days, 6 Hours, and 6 Minutes.