Daily Message
Date and Times given in Eastern Standard Time

04 Wednesday September 25th - Moon enters Sagittarius 12:02 AM
Understanding one's critical thinking will bring them face to face with how they expect to be seen publicly. And so what drives public reputation? Ideally one will follow their joy and inspiration and allow their public reputation to be the extension of their integrity. In other words do not be so concerned about public reputation. Servicing public reputation can be a slippery slope and typically the individual must explore their desire to be acknowledged publicly yet the final outcome, either this life or some future life, will hinge on one's ability to practice non-chaulance. True our gifts of character are Creator's gifts to others and so the best way to deliver the package is to always follow your own joy. It's like accepting that you have no choice you must have your cake and eat it too. As the Moon transits Sagittarius we will in many cases explore how our partnerships have facilitated effective actions in gaining ground in our mutually considered goals and projects. In many cases optimism about a relationship has either panned out or busted. And it has not been easy with Saturn transiting Sagittarius the whole time, while Jupiter, Sagittarius ruling planet, has been transiting Libra. As rules and guidelines and timeliness dictate partnership dynamics, the expected harmony in the partnership may have been tested. Virgo focus during this Moon cycle will bring a critical analysis to the mix and many will, ideally anyway, begin to see their own projection onto others. Jupiter will ingress Scorpio on October 10th and we will experience a change in this dynamic with a shift toward control. Unfortunately many will want to control their public reputation by controlling the resources which they believe will secure their desired public image.
New Message Begins September 27 2017 12:25 PM
The Daily Message is taken from the current PathfinderReport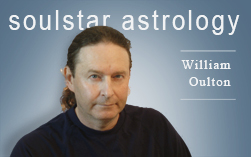 Astrologer * William Oulton
Next New Moon
23 Days, 17 Hours, and 53 Minutes.