Daily Message
Date and Times given in Eastern Standard Time

03 Monday March 19th - Moon enters Taurus 9:08 PM
Vernal Equinox Sun ingress Aries Tuesday March 20th 12:17 PM
The Vernal Equinox will occur on Tuesday while the Moon is in Taurus. The astrological year delineated by the Equinox will bring a one year cycle where the individual will seek security and comfort while coming to terms with their individual significance. How security is understood and what is considered admirable about an individual will be somewhat unique for each individual. Personal issues concerning these things will be generally elevated. The realism of a practical physical reality will be the good road for many as indicated by Mars Saturn and Pluto all transiting earth sign Capricorn during the Vernal Equinox. The need to feel the practical nature of one's decisions is indicated by the Moon's Taurus position and so it is the exaggerated Capricorn focus which will pick up this lead. Pluto says accept change while Saturn says focus on what is realistic when formulating the plan and Mars says get moving by being involved in a physical way. A need to be able to go out into the shared world and connect with others will require a realistic acceptance of these things. A feeling that there is a real foundation when seeking the connections one needs to evolve their practical type agenda will prove fruitful in this coming year. Look for and insist that the road one is planning to travel as one journey's toward their objective is real in the most simplistic way. The need to make connections with others is to be a main focus. Nebulous shots in the dark, as an example, when seeking business connections is not enough. One must instead simplify until a solid practical path can be assured. Feel this now during the Vernal Equinox and then look for this pathway in the coming year.
New Message Begins March 22 2018 1:31 AM
The Daily Message is taken from the current PathfinderReport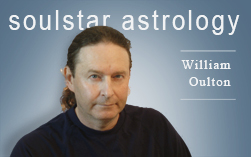 Astrologer * William Oulton
Next New Moon
24 Days, 21 Hours, and 46 Minutes.